I had the great pleasure of having Tea at the Ritz (London) recently.  This was a truly wonderful and sumptuous occasion.  The food, the ambience and the surroundings were magnificent.  It was magical to partake in one of the most elegant of British traditions – having Afternoon Tea (and at one of the world's oldest and finest hotels).
My dress was from the Twiggy Collection @ M&S (sizes up to a plus size 24).  This plus size dress is no longer available to buy but any of the dresses in the Twiggy Collection @ M&S will be suitable for a grand occasion such as Afternoon Tea.  To view the current Collection click here
Here are some photos of the Tea at the Ritz Experience.  (I have blurred out the faces of diners in the foreground to protect their respective identities)
The dress code at the Ritz for women is modest elegance.  The Ritz is not the place to display cleavages, bare backs, tattoos, and bare legs.  Designer labels, however,  are not necessary to get the dress code right!  Have a look at my plus size dress recommendations below.  I have selected my favourite plus size dresses, shoes and bags to put together your Afternoon look.
As recommended by Diane 
Plus Size Blue dress with silver trim available from Daxon £24.00 (up to plus size 32)
CLICK ON EACH PICTURE TO BUY ITEMS
Silver shoes to co-ordinate with trim on Daxon Dress above, available from Debenhams £17.60 (up to size 8)
Silver Bag to complete the look.  Bag by Faith £28.00 available from Debenhams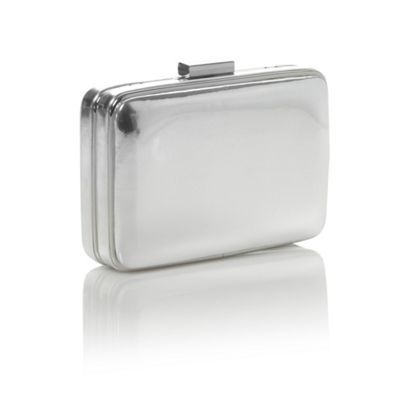 Expert Design firm support dress available from Daxon £49.00 (up to plus size 32).  I particularly like this plus size dress due to the added support, and the fact that the shape scales down well in proportion to also suit the petite lady.  The Raspberry patterned shade is also a fresh summer look.
CLICK ON EACH PICTURE TO BUY ITEMS.
Faith Shoes (Neutral) £18.00 available from Debenhams
Neutral Clutch Bag by Coast £50.00 to co-ordinate with Raspberry dress and neutral shoes
And for the larger bust here is a fabulous little number from Simply Be
available up to plus size 32 (bust E – GG)
I love the slimming black side panels and the peplum effect.
Wear this dress with these killer black patent 10.5cm heels
also from Simply Be (available up to size 7 (41)) – £60.00
                                                                                            and black patent leather clutch £119
I hope you have been inspired by my recommendations this week and realise that elegance does NOT have to cost a lot of money.  Until next week.  Diane