Classic Dressing – Twin Set available in 3 colour options
Pearl Button Effect long sleeve cardigan and short sleeve jumper – separates or twin set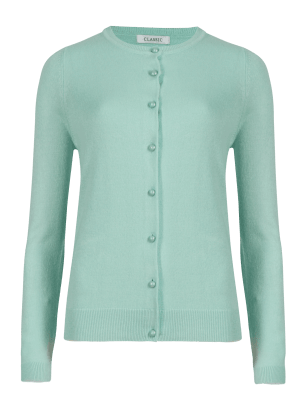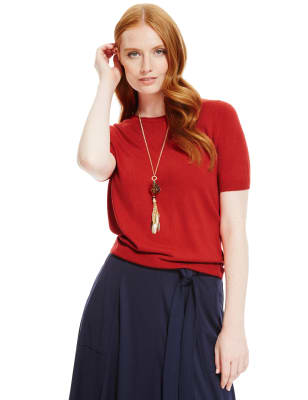 I love practicality and value for money.  For day wear dressing I like simple styling and timeless.  What could be more timeless than the standard long sleeve cardigan and short sleeve top for office day wear.  Combine the two items and you have a smarter twin set presentation.  The twin set is very much IN at the minute, appealing with its suggestion of vintage retro and providing the practical requirements of modern day smart and effortless daywear dressing.
I am wearing a cashmilion long sleeve cardigan and short sleeve top in black from the M&S Classic Collection.  Both pieces priced at £16 and £12.50 respectively.  There are 3 colour options to choose from (black, sea green, coral).  I am pictured wearing the black combo as I wanted to pick out the black polka dot print in my vintage retro skirt from Benetton.  I however absolutely love the sea green and will definitely buy this combination as a twin set to wear with navy/grey/black and dark brown trousers and skirts.  I sense a check pair of ankle grazer trousers being sourced to wear with the sea green twin set as well.
To see the twin set and hear what I have to say have a look at the short video below.

To create the Twin Set you need to buy both the cardigan and the top.
To buy the cardigan (£16) click HERE
To buy the short sleeve jumper (£12.50) click HERE