Getting Fit in 2015 – Affordable Fitness Clothing from M&S
M&S Fitness Range from the M&S Collection at Marks & Spencer
The new year is normally the best time to kick start a new health and fitness regime (especially if your Christmas has been overindulgent).  New Year, New You being the tag line or mantra.
It is also hard to escape the media campaigns on TV, newspaper and radio about getting fit, reducing one's waistline and avoiding the health issues associated with obesity.  We cannot disagree with the medical experts.  Obesity is a problem in the developed world.
What I have found most interesting is recent coverage in the British Press which suggests that inactivity is an even greater threat to health and well being than being overweight.
So my new year's resolution for 2015 is to improve my overall fitness and in so doing increase my activity levels.
Like most working mothers large amounts of my daily routine are sedentary.  I drive to work, sit at a computer and/or stand in front of a class of students and then drive home again.  In between times I also do the ususal driving runs with my teenage children to take them to and from all their activities outside of school.  When I come home in the evenings I get the family dinner made and then another bout of sitting takes place (either in front of a computer again or on the odd occasions that I manage to sit down in front of the TV).
Health experts suggest that 20 mins per day is all that is required to maintain a general level of fitness.
We are now nearing the end of January and for many the new year resolutions have started to wane.  I am struggling but I am determined to keep up with my desire for change.  I am not doing anything radical.  My husband and I push ourselves to get a 20 mins walk every evening (rain, hail or snow).  I also have joined a Zumba class (which I go to once per week).  I think that I am more likely to succeed by making small changes rather than attempting anything more radical.
I have been very impressed with the new Fitness Range of Clothing from the M&S Collection at Marks & Spencer.  I find all the pieces affordable and very practical.  There are many separates that you can buy to mix and match your entire ensemble AND there are a few ranges to choose from too.  This entire range also has cool comfort technology which is a registered trade mark of M&S.  This means that all of these items allow your skin to breath and cool down whilst exercising.  You do not get sweat staining on the garments and at all times you feel cool in them.
Have a look at the video presentation below to see more details of each of the separates.

In the video I am wearing the following items
Quick Dry Half Zip Sweat Top with cool comfort technology 
To buy this top click HERE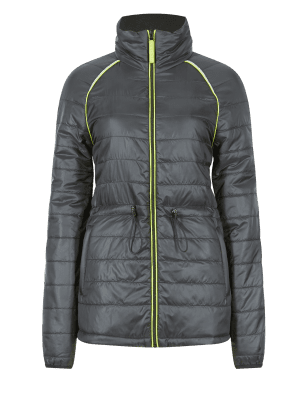 Thinsulate Padded Jacket with storm wear
To buy this jacket click HERE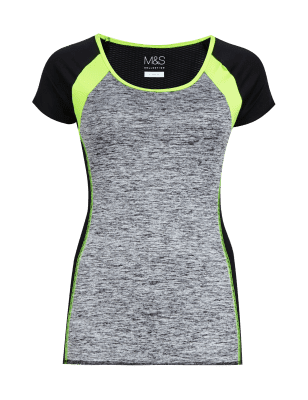 High Impact Active Colour Block T-Shirt with Cool Comfort Technology
To buy the top click HERE
Reflective Cropped Leggings with cool comfort technology
To buy the cropped leggings click HERE
And finally here are a few pics of me wearing 2 other tops which are all part of the separates which can be mixed and matched within this range
Quick Dry Scoop Neck T-Shirt with cool comfort technology 
To buy this top click HERE
Colour Block Marl Vest Top with cool comfort technology 
To buy this vest top click HERE
Until Next Week.  Diane XXX