Jump Suit from Pink Clove £21
A Jump Suit suitable for Evening Wear and other Dressier Occasions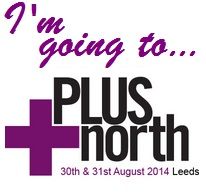 Jump Suit in monochrome trend worn by Diane Marshall, plus size fashion blogger for www.plussize.co.uk.  I am also going to Plus North in Leeds on Saturday (30th August 2014).  I will be wearing this jumpsuit by Pink Clove so if you are also coming along feel free to come over and have a chat.
This week I am delighted to introduce you all to a new plus size retailer on www.plussize.co.uk.  Pink Clove offer a very affordable range of plus size clothing from a size UK16 – UK28.
I am seen in the picture wearing one of their jump suits (UK18) which is suitable for a smart and dressier occasion day wear look OR for Evening Wear.  This jump suit is available from a size UK16 – UK28 and costs just £21.  This truly is great value.
The jump suit is perhaps the easiest of all forms of dressing and offers the option of accessorising for a more dressier look.  As with all my blog postings on www.plussize.co.uk I am not wearing any make-up and have not styled this look with accessories so that you can get a true sense of the garment and it's colour and let your own imagination run wild with how you might style your look in this jump suit.
This particular jump suit is a jersey weight fabric so is easy to fold and pack in a suitcase.  I am flying to Leeds with hand luggage only.  I need 2 strong looks (day wear and the Evening After Party).  I have decided to wear this jump suit at the main function on Saturday during the day and then I will wear a black dress to the Evening party.  I therefore only need to include the one pair of black heels to wear with both outfits.  I love it when efficiency meets style!
The jumpsuit is a very forgiving outfit and manages to flow over those curves with ease and less distraction that perhaps a dress might.  This jump suit has an elasticated waist area (joining the trousers to the top) which gives a wee bit more wiggle room.  The black trousers serve to minimise any problem with the bottom half of your body AND the wide legs are very complimentary, especially on ladies with larger thighs.  On the top the wrap style (cross over) V Neckline is very attractive and a neck lengthening feature whilst the fabric makes this top non bra cup specific.  I love the look.  This is very me – easy, simple yet smart.
To buy this jump suit click HERE
To view other jump suits in the range click HERE
Have a quick 30 second view of the features of this jump suit

Watch this video to hear me talk about the jump suit.

To look at the range at Pink Clove click HERE
Until next Thursday.  Diane XXX